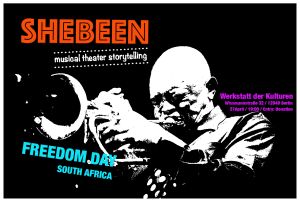 his is where we tell our stories, exchange ideas, have heated political discussions, enjoy live music, relax over a traditional home made beer and reminisce about the past and plan the future. The audience becomes part of the play.
The evening is a host to South African's most celebrated art & cultural scenes. There will be live music, exhibitions, discussions, performances and much more as we celebrate our FREEDOM DAY.
South Africa is a country which is deeply entrenched in the spirit of ubuntu. It is with this fundamental conviction that we welcome you to experience our amazing diverse art & culture.
Please be welcome!
Entry: Donation for the artists